HISTORY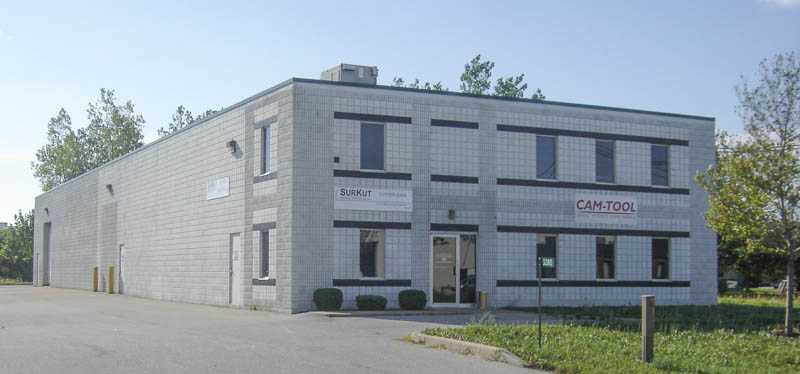 In the Beginning
SURKUT Machine Technology Inc. opened for business in August of 2005 in Windsor, Ontario Canada. Its founder Doug Noxell, then President of Graphic Products N.A., the importer of CAM-TOOL, an elite CAD/CAM software package, and one of North America's few high-speed machining (HSM) experts realized a need for convincing test cuts and live machining demonstrations. So, Mr. Noxell and a former business partner opened a machine shop that would focus on producing highly accurate, polish-free finish machining of 3D geometry in molds, while serving as a competitive outsource machining solutions provider.
It soon became apparent that Mr. Noxell would have to choose between either selling the CAD/CAM software or continue practicing what he has been preaching about since his first trip to Japan back in 1999: high-speed milling, hard milling and machining to negative stock. He chose to continue on with SURKUT Machine and the company he founded while also promoting the CAM-TOOL software package as an independent high-speed machining consultant and advisor to some of the top machine tool companies in North America.
A New Era
In April of 2009, during the economic recession and downturn in the automotive industry, the Company was faced with some of its toughest challenges yet, to either close its doors after four short years in business, or downsize and fight back by sticking to our core beliefs and vast knowledge on high-speed machining (HSM). Shortly after, Doug Noxell finalized a deal with his former business partner to become sole owner of SURKUT Machine Technology Inc. Mr. Noxell soon began the process of moving its operations closer to home so that he could refocus his efforts. He didn't do it alone though, as he was joined by his two youngest sons, who were eager to work alongside their father in the trade he has known for over three decades.
The Story Behind the Name
"Where exactly does the SURKUT name come from and mean?"
Firstly, we know that we can tackle the toughest precision machining challenges brought to us by our customers.
Secondly, Doug Noxell wanted to have a name that was unique and had a personal meaning to him. After several attempts to register a name that wasn't already in use, he inserted a "K" into the name, which is the first initial of his three sons' first names.
Milestones at SURKUT Machine
2018
SURKUT Machine adds its second Yasda in under five years, a Yasda YBM-950V CNC Jig Borer
The Company adds a ROMER Absolute 7520 SEI portable metrology arm.
Mike Kaufman joins the team bringing over 20 years of experience.
2016
SURKUT Machine purchases a Tongtai Topper HB-630 horizontal machining center.
Ron Brown joins the team bringing over 30 years of experience.
The Company surpasses $2,000,000 in sales for the first time.
2015
SURKUT Machine celebrates its tenth year of business.
The Company purchases a PMI-20 Miter Upcut Saw.
SURKUT Machine exceeds previous year revenue record.
November 2014
Ron Pelton, Senior CAD/CAM Programmer joins the team, bringing over 30 years of experience.
In 2013
SURKUT Machine Technology Inc. surpasses $1,000,000 in sales for the first time.
September 2013
SURKUT Machine adds a Yasda CNC Jig Borer YBM-9150V with a pallet changer.
The Company also purchases a brand new Tongtai Topper HB-500 horizontal machining center.
As a result, SURKUT Machine expands its facility to accommodate the new equipment.
January 2013
SURKUT Machine welcomes Jason Contois to the team as it's CNC Lead Hand.
Late 2012
SURKUT Machine adds another CNC machinist, bringing the team to five members.
The Company expands its machining capacity by adding its third vertical machining center, a Johnford Hi-Net SHV-1000.
August 2010
SURKUT Machine celebrates its fifth year anniversary.
The Company purchases its first horizontal machining center, a Tongtai Topper HB-500.
August 2009
SURKUT Machine Technology Inc. successfully reopens for business at its current location.
April - July 2009
Doug Noxell becomes the sole owner.
The renovations begin on the new offices and shop located in Mount Brydges, Ontario.
Mr. Noxell's two youngest sons join the team.
In 2006
The Company purchases its second vertical machining center, a Johnford Hi-Net DMC-1600.
SURKUT Machine also hires its first employee to keep up with the increasing demand.
August 2005
SURKUT Machine Technology Inc. is established and opens for business.
The first vertical machining center is purchased, a Tongtai Topper MDV-812 from Absolute Machine Tools.